Premium Properties' real estate development arm performs upgrades to existing single family homes and multifamily apartment buldings. In addition, they also develop properties from the gound up. The most recent project was the Southside Lofts and Retail in Berkeley. The following provide detailed information about this project: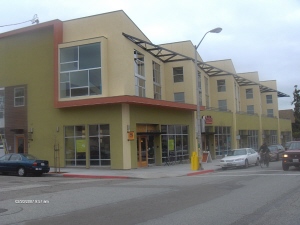 SOUTHSIDE LOFTS
3075 Telegraph Ave
Berkeley, CA 94705

The Southside Lofts & Retail is a 22,000 square foot mixed use development. This stunning building, designed by Kava Massih Architects is sure to become one of Berkeley's signature properties. The property features approximately 5,700 square feet of ground floor retail and 10 2-story loft condos. The project also includes 10 garage spaces and 13 retail parking spaces and a shared manicured garden for the residents to enjoy.

The Southside Loft Condominiums were completed in June, 2007 and quickly sold out.

Residential Loft Condominiums Feature:
A Bedroom and Full Bath
Full Gas Kitchen with Dishwasher
Stackable Washer/Dryer
Vaulted Ceiling 18+ Foot Ceilings in the Living Room
Floor To Ceiling Windows with Panoramic Views of the Bay
Large Mezanines will have a Large Balcony Facing the Hills & Garden
Garage Parking
Retail Spaces Feature:
12 1/2 - 14 1/2 Foot Ceilings
Large Windows
Great Signage
Superior Frontage on the Popular Telegraph Corridor
More Information on Available Retail
Floor Plans
History

This location was home to Milt's Coin Operated Laundry, Mini Liquor Store, and small office space. In January, 2002 a fire struck this property, causing hundreds of thousands of dollars in damage, and was deemed a total loss by the City of Berkeley.

Location

This development is located in the Southside of Berkeley on the busy Telegraph Corridor. It walking distance from Whole Foods Market, Alta Bates, Elmwood/Rockridge Shops, the Ashby Bart Station and UC Berkeley.