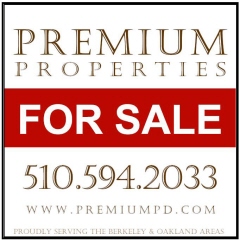 Is it Time to Sell Your Property?

At Premium Properties, we provide a superior service to our clients to help them achieve their real estate sales goals of selling their property for the highest price in the shortest time. Our exceptional knowledge of the market allows us to provide the most accurate evaluation of your property's current value and guide you towards an appropriate list price.

Please feel free to Contact Premium Properties to discuss your real estate plans. We are uniquely qualified to assist and coordinate the sales process, bring the experience and knowledge to facilitate the process and close the deal. We specialize in many types of real estate transactions including Single Family Homes and Condos, Commercial Apartment Buildings, Office and Mixed Use.

We Serve the Central East Bay Markets of the Bay Area Including:


Berkeley Oakland Piedmont Emeryville Albany Orinda

Realtor Sales Services Include:

Sales & Marketing

Choosing a Realtor who is familiar with your area is the first and most important decision a seller can make. Premium Properties proven marketing sales plans include the marketing and strategic planning needed to achieve the sales goals.

This can include: Timing the sale, Signage, Submission into Multiple Listing Service (MLS), Loopnet, Craigslist, Personalized custom websites, Ads in major and local newspapers, "Just Listed" announcements to your neighborhood, Color property flyers with descriptive text, photos and stats, Cooperation with other real estate companies, Sunday Open Houses, Monday and Thursday Local Brokers' Tours, Installing a lock box, Meeting prospective buyers by appointment and more.

We will make sure your property is fully exposed to the world and local community through an aggressive and comprehensive marketing campaign. This includes global Internet exposure via an array of real estate search engines and real estate specific websites, a direct e/mail campaign to local and regional Brokers/Agents with property highlights and other critical tasks to bring in buyers.

Adding Value & Proper Pricing

Before your property is put on the market for sale, please take the opportunity to make the important improvements or repairs that can add value and improve the sale price of your property. Some of the more cost effective improvements include painting both exterior and interior, curb appeal and landscaping, refinishing hardwood floors and new carpeting, kitchen remodel or upgrades and lighting, trim and accessories.

All real estate is different so pricing is then determined by analyzing the following factors:


Average sales price of previous "comparable" sales
Physical condition of property
Aesthetic appeal of property
Neighborhood Location
Current market conditions
Other Qualitative Factors
Disclosures

We develop and produce a comprehensive disclosure package designed to educate the buyer about the history and condition of the property, to comply with legal disclosure requirements and to protect the seller.

Reviewing Offers

We create a detailed evaluation of potential buyers and offers including: price, size of down payment, loan qualifications, terms, buyer's firmness or need for property, and any statement from the buyer or agent. We are careful to pre-qualify the buyer to reduce the risk of falling out of contract. We monitor each step of the escrow period in terms of the contractual obligations for a smooth transaction.

Closing the Deal

Premium Properties will finesse, negotiate and work to overcome obstacles to move the transaction forward to close the deal and sell the property. We work by referral and therefore hope that you will be pleased with our service and will refer all your friends.

Real Estate Investor Services

We also specialize in the identification of residential and commercial income producing properties. Drawing on years of investing experience, we use a multi-tiered method for identifying and evaluating the profitability of these properties including:


Gross Rent Multiplier
Cap Rate
Cash on Cash Return
Return on Equity
Price per unit
Price per sq/ft.
Subdivision
Condo conversion
Upcoming neighborhoods
Undervalued situations
Opportunities to add value
Diamonds in the rough
Our services include a full rental market analysis and capital improvement evaluation. Perform a 1031 exchange to leverage up and grow your asset, defer taxes and take advantage of all the benefits of owning investment properties such as cash flow, equity build-up, depreciation and mortgage interest write-off. Sell your primary residence for a five hundred thousand dollar tax free gain, or perform a prop. 60 property tax base transfer while downsizing and put cash in your pocket.